3G MINI Wi-Fi Router 83MR
VISIONTEK 3G Mini Wi-Fi Router enables users to setup a secured wireless network for sharing high-speed Internet. It supports Auto dial out function as well as Auto APN.
Overview
VISIONTEK 3G Mini Wi-Fi Router meets mobile user's need to set up a wireless network for sharing High-speed Internet Connection. By inserting a (U) SIM card activated with 3G Services in 83MR Mini Wi-Fi Router, it quickly enables user to create a secured wireless network on IEEE 802.11 b/g/n and provides access to Internet.
VISIONTEK 3G Mini Wi-Fi Router is simple to use and can be easily setup. It automatically detects the inserted (U) SIM Card as well as selects APN and supports auto dial out to establish network connection.
Visiontek Mini Wi-Fi Router can easily connect to High-speed Data Networks, with no additional requirements for software, drivers and interfaces. Several Laptops, Computers, PDAs, Smart phones and Network Devices can simultaneously share a single wireless broadband connection.
Application Areas
Small Offices & Home Offices
Commercial Places
Camp Sites
Construction Sites
Restaurants / Hotels
Exhibitions & Events
Rescue Camps
On-the-go-Trains / Buses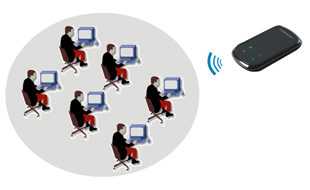 Features
Web page User Interface
Supports Auto APN
Supports Auto-dial up
Firewall feature for secured network
WPA, WPA-PSK, WPA2 and WPA2-PSK security protocols
MAC, URL & IP filter function
Supports IEEE 802.11 b/g/n
Display Status and Statistics of Internet
Supports Micro SD card up to 32 GB
Use mini USB to RJ 45 converter cable for broadband ISP source
AT Command Support 3GPP TS 27.007
Inbuilt Battery
3-4 hours working Battery back-up
Phonebook, SMS, PIN management
Support HSUPA upto 7.2 Mbps Downlink and 5.76 Mbps Uplink (Network Dependent)
DHCP server
Remote Management
Auto, Manual & On Demand Dialing
Downloads
Brochure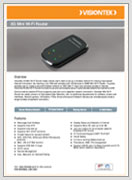 Specifications
Frequency
3G/HSDPA : 2100 MHz.
GSM/GPRS/EDGE : 850/900/1800/1900 MHz
HSUPA 3GPP, Rev 6, DL Speed upto 7.2 Mbps, UL Speed upto 5.76 Mbps
SIM Interface
Standard six pin SIM card interface, compliant with 3GPP 31.101 & 31.102.
Device Interfaces
SIM Card Interface
Micro SD Card Interface
Charging Interface – Mini USB
Power Supply – Removable Li-ion Battery, 1500 mAh
Wireless Standards
802.11b/g/n
Wireless speed : up to 150 Mbps
Frequency range : 2.4 GHz to 2.484 GHz
64/128 bits WEP data encryption
WPA (Wi-Fi Protected Access), WPA2, WPA-PSK/WPS2-PSK security
Advance Routing, AP Isolation
Router & Network Protocols
NAT, Static Routing & PPPoE
Virtual Server & DMZ
Firewall/Access Security
Built-in NAT firewall
SPI Firewall,
MAC/IP/PORT Packet Filter
URL Filter
Configuration/Management
Web-based GUI for remote/local management
Firmware upgrade, configuration data upload/download via Web-based GUI
Telnet server for remote/local management
Sys log monitoring
DHCP server/client/relay

Antenna
Wi-Fi Internally Embedded Antenna
GSM
Internally Embedded Antenna
Operating System Supported
Microsoft Windows TM 7, Vista, XP SP2+, Mac OSX (10.5.X Intel based CPU), Linux (Optional)
Color
Black
Dimensions (mm x mm x mm)
52.5 L x 96 W x 13 H
Weight
45 Grams without Battery, 75 Grams with Battery
Environment Requirements
Operating Temperature : 0°C ~...... +45°C
Storage Temperature : -10°C ~ +80°C
Operating Humidity : 20% ~ 95% (Non- Condensing)
Electrical Specifications
Power Adaptor : 12V, 1.25 Amps.
Maximum Power Consumption : LED Indication : Power, 3G, WiFi & Battery

indicates optional feature
Product Configuration