Single Phase Smart Energy Meter SM12
Accurate - Intelligent - Reliable - Smart energy metering .
Overview
VISIONTEK SM12 Single Phase Smart Energy Meter from Linkwell. Meter is designed to meter residential and small commercial energy consumers in distribution networks. Smart meter is an ac-static watt-hour meter that records electric energy in intervals of an hour or half and communicates to the head and system through a wireless communication network. Meter also records energy with time of use registers, has internal connect and disconnect switches with two way communication capability. It is designed to measure the flow of forward (import) or both forward (import) and reverse (export), store and communicate the same along with other parameters. It can be remotely accessed for collecting data/events, programming for select parameters.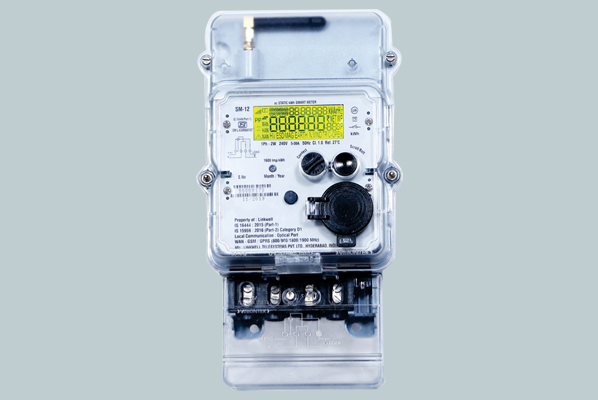 Smart Meters enable the utilities to reduce the sanctioned load limit of the consumers by remotely programming the relay in the meter to operate at a lower threshold limit as against complete load shedding in case of emergency/peak load conditions or when the demand is exceeding the supply.
Smart Meters also help the utilities to configure the meter remotely, download the TOD tariff remotely into the meter, unidirectional or Bi-directional (Net Metering), convert the payment mode from post-paid to pre-paid mode, etc... These features make the Smart Energy Meter a dynamic device in adapting to different conditions as per Utility requirements.
Smart Meters not only benefit the utilities with their versatile features but also enable the consumers in managing their loads and empower the consumers to make choices about the usage of energy through real time information by interfacing the meter with in-home display units.
Application Areas
Residential metering
Commercial metering
Sub-tenant metering
Features
Class 1.0 accuracy compliance with IS/IEC standards
Large LCD for display of measured parameters with legends & load connect/disconnect indications
LED indications for Calibration and Meter status and LCD indications for data communication
Programmable Time of Use metering prepaid metering, netmetering
Programmable load profile capturing, event logging, bill point registers
Optical/IR*/IrDA* Communication for local meter reading
RS 232 port*, Inbuilt LPRF module with 6LoWPAN network protocol for remote meter reading
Load Connect/Disconnect feature with inbuilt switches
Firmware download feature through remote communication
Compatible with In-home Display Unit on open protocol
Downloads
Brochure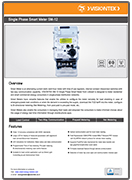 Specifications
Connection Type
Single Phase Two Wire
Accuracy
Class 1.0 as per IS13779, IEC 62052-11/IEC 62053-21,CBIP TR 88 / 304
Voltage
Nominal : 240 V (L-N)
Operating : -40% to +20%
Current

5-30A




5-20A

Power Factor Range
Zero Lag - Unity - Zero Lead
Frequency
50 Hz ± 5%
Starting Current
0.2% of Ib at Vref & Unity Power Factor
Power Consumption
Voltage Circuit : 1.5 W / 8.0 VA ; Current Circuit : 4.0 VA
Temperature Range
-10° C to 60° C
Humidity
≤ 95%
Display
LCD with back-light, 6 digit 7 segment display for parameters and icons for tamper indications
Communication Interfaces

Optical port hardware compatible to IEC 62056-21




IR / IrDA




RS 232 port (RJ 11)




Inbuilt LPRF module

Measured Values/Units

Active energy




Apparent Energy




Maximum Demand kW




Maximum Demand kVA




Instantaneous Voltage




Instantaneous Current




Instantaneous Frequency




Instantaneous Power Factor

Maximum Demand (MD) Register
Programmable Integration Period (15 or 30 or 60 minutes) ; Sliding window method or Fixed window method
Billing registers
Upto 12 months bill point registers
Time of Use
Programmable time zones
Tariff registers
Programmable tariff registers
Event Logging

Neutral Missing (Single Wire)




Current Reversal




Earth load (Current bypass, Current unbalance)




Power ON / OFF




Magnetic influence




Top Cover Open Detection




Over Load




Neutral Disturbance




High Voltage




Low Voltage



Enclosure
IP 51
Dimensions in mm
204 x 139 x 83
Weight
0.6 kg ± 0.1 kg

indicates optional feature
Product Configuration
S.No
Features
Description
1.0
Standard Features
1.1
Connection Type
Single Phase Two Wire
1.2
Accuracy
Class 1.0
IS 13779, CBIP TR- 88,
IEC 62052-11, IEC 62053-21
1.3
Voltage
Voltage Nominal : 240 V (L-N)
Operating : -40% to +20%
1.4
Current
5-30A
1.5
Power Factor Range
Zero (lag) - unity - Zero (lead)
1.6
Frequency
50 Hz ± 5%
1.7
Starting Current
0.4% of Ib
1.8
Power Consumption
Voltage Circuit : < 1.5 W and 4 VA ;
Current Circuit : < 1VA
1.9
Temperature Range
-10°C to +60°C
1.10
Humidity
<=95%
1.11
Display
Custom built LCD with back-light
6 + 2 digit seven segment display for parameters and icons for other indications
1.12
Communication Interfaces
Optical port hardware compatible to IEC 62056-21

1.13
Measured Values/Units
Active energy
Maximum demand kW
Phase voltage
Line current

1.14
Maximum Demand (MD) Register
Integration periods 30 minutes (fixed block)
1.15
Billing registers
Up to last 6 months bill point registers
1.16
Event Logging
Current reversal
Neutral missing
Earth load
Magnetic influence
1.17
Enclosure
Case : IP51
1.18
Dimensions in mm
204 x 139 x 83(L x W x H)
1.19
Weight
0.6 kg ± 0.1 kg
2.0
Optional Features
2.1
Current
5-20A
2.2
Communication Interfaces
IrDA / IR ,
Isolated RS232 (RJ11) ,
Inbuilt LPRF module
2.3
Time of Use
Programmable up to 8 slots
2.4
Event Logging
Front cover open detection
Terminal cover open detection
2.5
Load Survey
kWh/kW with 15(30) minutes
for 45(90) days respectively
Note : Any Customization is subject to Business Approval