Fixed Wireless Phone 21G
21G GSM Desk Phone works on GSM network. This enables instant telephone access to various applications like providing a landline alternative for remote areas
Overview
VISIONTEK 21G GSM Desk Phone allows users to access voice calls communication on GSM mobile phone network with a SIM Card. Our FWP combines simplicity with advanced features.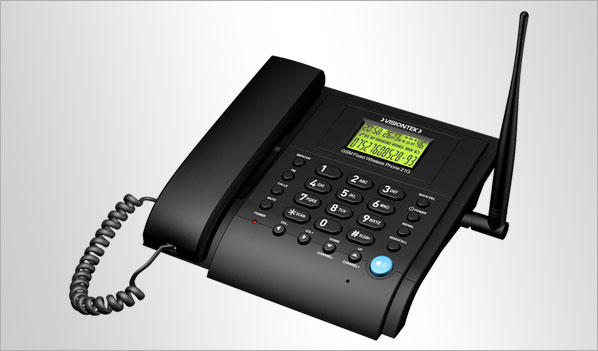 VISIONTEK 21G GSM Desk Phone enables instant telephone access to various applications like providing a landline alternative for remote areas, ships, vehicles, construction, oil and mining companies, exhibitions, disaster recovery application services or any temporary sites.
VISIONTEK 21G is available in two colors White & Black with general billing features.
Application Areas
Business houses with multiple locations
Telecom Service providers
News Agencies
Broadcasting companies
Event Management organizations
Law enforcement agencies
Community Phones
Call Centers
SOHO applications
Residential applications
Call shops / Teleboutiques / Bureaus
General billing features
Features
Desktop Speaker with superior voice quality
Short Messages Services (SMS
Redial last number or from list
Call Duration, Day, Date & Time Display
Network selection Automatic & Manual
Programmable local area code
Built-in Alarm function
Hotline Dialing
Call Log details
100 numbers phone book memory
Fixed and on-hook dialling
Power LED indication on Adapter
Polyphonic/Mono Ring tones
PSTN dial tone
Caller ID
Multi Conference
Lapu / SIM menu
Downloads
Brochure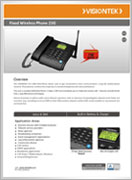 Specifications
LCD Display
Dimension - 128 x 64
Number of Lines - 04
Network Frequency
Dual Band GSM 900/1800 MHZ
Receiver Sensitivity
-104dB

Keypad
22 keys for multi functional operation
Input Voltage
AC: 90-300v; Output DC: 5v/1A
Battery Charger
Built-in

Time for Charging
5-6 hours
Battery Type
3.7v Li-ion
Talk Time

2 Hours

Stand By Time

72 Hours

Enclosure
ABS plastic
Humidity
Operating : 10% ~ 90%
Storage : 5% ~ 95%
Interface
User friendly programming
Power, Network, Signal strength, Date & Time indication
Mini USB connector for Software Downloading
DC power supply socket
SIM socket
Soft key ON/OFF
GSM antenna

Temperature
Operating: -10°C to +55°C
Storage: -20°C to +60°C
Dimensions (mm)
203 x 204 x 79 (L x W x H)
Weight
750 Grams
Antenna
3dB antenna

Conditions Apply
Product Configuration
S.No
Features
Description
1.0
Standard Features
1.1
GSM Module
900/1800 Dual-band GSM Module
1.2
SIM Interface
1.8V and 3V
1.3
Software
Standard FWP software
1.4
Antenna
3dB di-pole antenna
1.5
Interface
User friendly programming
Power, Network, Signal strength, Date & Time indication
RJ45 connector for Software downloading
DC power supply socket
SIM socket
Soft key ON/OFF
SMA antenna connector

1.6
LCD
128 x 64 Graphic LCD with green Backlight
1.7
Keypad
22 keys for multi-functional operation
1.8
Power Adaptor
AC 100 - 300V (50Hz to 60Hz) DC output (i) Battery : 13.8V DC output (ii) Load : 9.5V , 1A
1.9
Battery
Built in 3.6v Li-Mh
1.10
Dimensions (mm)
220 x 204 x 79 (L x W x H)
1.11
Weight
800 Grams
1.12
Enclosure
ABS Plastic
1.13
Packaging
VISIONTEK Standard Corrugated Box
2.0
Optional Features
2.1
Antenna
5dB Magnetic Whip Antenna with 3-Meter cable
7dB Magnetic Whip Antenna with 5-Meter cable
12dB Yagi Antenna with 10-Meter cable
2.2
Battery
3.6V / 1600 mAH battery
Note : Any Customization is subject to Business Approval