GL-14
VISIONTEK Point-of-Sale terminal GL-14 is built on ARM9 processor based technology, comes with a thermal printer, powered by in-built battery & external adaptor
Overview
VISIONTEK GL-14 POS is a smart, compact multi purpose Transaction Terminal for on the go Handheld and Desktop applications.
Pre-paid airtime and E vouchers, Money Transfers, RFID/NFC based transactions, Utility bill payments, Ticketing, etc are few of the applications on the GL-14.
A Hi speed 32 bit Processor, large memory, built in optional GPRS / LAN / Wi-Fi Communication modules make the GL-14 a truly versatile unit suitable for use with multiple applications in a single Terminal.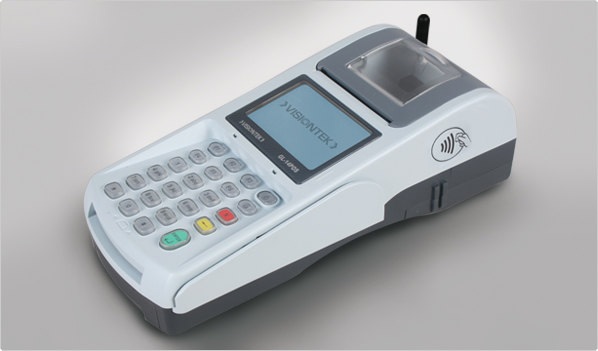 VISIONTEK GL-14 offers total security and convenience while operating with mobility in departmental stores, supermarkets, shops, restaurants, and other merchant outlets.
Application Areas
Prepaid Air time Vouchers / E Vouchers
Online Ticketing
Gaming and Lottery
Branchless Banking Transactions
Post Paid Bill Collection
Cash Collection
Money Transfer / Remittances
Features
Ergonomic design
Compact & Rugged
Inbuilt graphic Thermal Printer
Large Memory
Built in NFC Reader *
Built-in Smart Card Reader *
User friendly SDK & other utilities
Dual SIM capability with auto switching for GPRS module
Downloads
Specifications
Processor
ARM9 32-bit Core CPU @ 400MHz
Memory
RAM : 128 MB Flash : 256 MB External Flash Memory : Micro SD Card Reader
Operating System
LINUX Operating System (Ver 2.6)
Display
128 x 64 pixel Graphic- FSTN LCD with LED backlight
Keypad
23 keys (0 - 9 numeric keypad, *, #, 6 function keys, Power on/off, Back space, Paper feed, Cancel and Enter)
Printer

Thermal graphic printer

8 dots/mm resolution

Magnetic Swipe Card Reader

ISO7811 3-Track Magnetic Swipe Card Reader

Smart Card Readers

Contact Smart card Reader (ISO 7816 - Asynchronous)




Dual Contact Smart card Reader




Contact-less Smart card Reader (ISO14443, Mifare, NFC)

Peripheral Ports
1x RS-2321x USB Slave1x USB Master
Communication Modules

LAN 10/100 BASE-T; Standard RJ45 connection




GSM / GPRS with Dual SIM selection, (Quad band) (SMA female antenna connection)




CDMA 1X2000; SMA female antenna connection




Wi-Fi with b/g/n supports

Audio

1 W speaker supporting WAV and MP3 files




( Ethernet will not be available with Audio )

Power Adapter

AC input 100 - 240V, 50/60Hz DC output 9V, 2.2A

Enclosure
ABS+PC
Operating Temperature
0°C to 55°C
Humidity
95% RH non condensing
Immunity
IEC 61000-4-2, Level 3IEC 61000-4-3, IEC 61000-4-4, IEC 61000-4-5, IEC 61000-4-6,IEC 61000-4-8, IEC 61000-4-9, all Level 4
Weight
650 gms

indicates optional feature
Product Configuration
S.No
Features
Description
1.0
Standard Features
1.1
Processor
ARM9 32-bit Core CPU @ 400MHz
1.2
Memory
RAM : 128 MB Flash : 256 MB
1.3
Display
128 x 64 pixel Graphic FSTN LCD with backlight
1.4
Keypad
23 keys (0 - 9 numeric keypad, *, #, 6 function keys, Power on/off, Back space, Paper feed
1.5
Printer
Thermal graphic printer8 dots/mm resolution
1.6
Magnetic Swipe Card Reader
ISO7811, 3 Track Magnetic Swipe Card Reader.
1.7
Smart Card Reader
ISO 7816 compliance, contact smart Card Reader
1.8
Interfaces/Connectors
RS-232 (RJ45 Connector for console and Serial file transfer)USB OTG USB Host 'A' SD Card Reader 2-SAM slots
1.9
Enclosure
ABS+PC
1.10
Accessories
Paper Roll
Thermal paper 57mm wide and 15Mtrs length
Power Adaptor
9V D.C, working on 100 to 240V A.C/50/60Hz / 2.2A with 5mm Plug
Battery
7.4V/ 1700mAH Li-ion type
Serial console cable
RJ45 8P8C one side with DB9 pin termination other side for PC interfaces
Documentation
Installation Manual
2.0
Optional Features
2.1
Smart Card Reader
Dual Contact Smart Card Reader Contact-less smart card reader with ISO 14443 A/B compliant
2.2
Audio
1 W speaker supporting WAV and MP3 files
2.3
Communication Modules
GSM/GPRS
Quad Band
2x SIM Card holder
Standard Antenna: 1x Standard Stick Antenna
Optional Antenna: 1x Magnetic Whip Antenna (5dB with 3 meters)
Optional Antenna: 1x GSM Magnetic Whip Antenna(5dB with 5 meters)
CDMA
1x2000
1x UIM Card holder
Standard Antenna: 1x Standard Stick Antenna
Optional Antenna: 1x Magnetic Whip Antenna (5dB with 3 meters)

Wi-Fi
Wi-Fi with b/g/n supports
2.4
Accessories
USB Host (Type A) to USB Device (Type B) cableHolster Carry Bag