GL-11
VISIONTEK Point-of-Sale terminal GL-11, with an in-built fingerprint scanner designed exclusively for Microfinance & e-Governance applications.
Overview
VISIONTEK GL-11 POS terminal is equipped with ARM Cortex A9 @ 1GHz processor, Finger Print Scanner, 3.5 TFT Colour LCD display with Touch Screen and QWERTY keypad. These Features are specially designed to address NREGA, Micro ATM, NPCI, UID and PDS requirements with biometric Finger Print Authentication for AADHAAR based transactions.
VISIONTEK GL-11 other optional features are ISO 7811 for Magnetic Swipe Card Reader, ISO 7816 supported Smart Card Reader (optional Dual Contact Smart card reader), Contactless card reader and Finger Print Scanner. The fingerprint sensor is conveniently placed for user access.
GL-11 supports rich QT GUI with Linux / ANDROID ** and it comes with seamless connectivity options like GSM/GPRS 2G/3G Bluetooth, WiFi and Ethernet.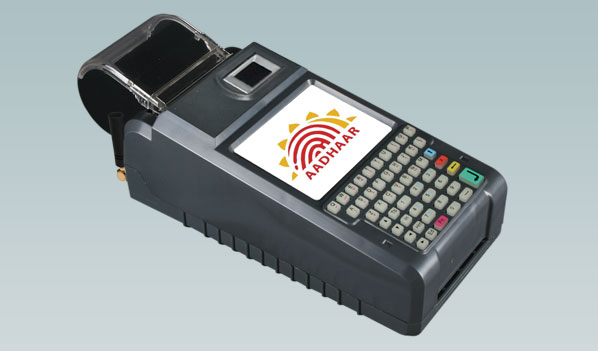 Application Areas
Banking
Financial Inclusion
PDS Automation
Medical & Health Care
Micro Finance
Identification
NREGA Wage Seeker's Payment &
Attendance Management
Police Challan
Security Access Control
Features
Touch Screen TFT Color LCD with 320 X 240 Pixels
Virtual Keypad on LCD
QWERTY Keypad
Built-in Magnetic Swipe Card Reader*
SmartCard Reader / Contactless Reader *
In-built Camera with Flash (5 Mega Pixel) *
Bluetooth *
Linux/Android operating system
Optical Finger Print Scanner of ANSI & ISO formats *
1:10 templates for Digital persona optical scanner
Storage capacity of up to 500 users or 1,000 templates
High Performance Optical Sensor (500dpi) with large capture area 14mm x 22mm
In-built Speaker for announcements
GPS and Wi-Fi *
Downloads
Specifications
Display
3.5Inch Touch Screen TFT LCD 320 X 240 pixels Virtual Keypad on LCD

3.5 inch colour VGA 640 X 480 resolution

Processor
ARM Cortex A9 @ 1GHz
Memory
RAM 512 MB Upgradable upto 1GB; Flash 8GB (Internal)
Operating System
Linux / ANDROID

Keypad
QWERTY Keypad ;
Alpha Numeric (A-Z;0-9)
Function keys (F1-F8)
Special Keys(Shift,Back,Cancel,Enter,Space,Fn)
Printer

Thermal graphic printer;




8 dots/mm

Speaker

1W Speaker supporting WAV and MP3 files

Interfaces/Connectors

Micro SD (upto 16GB)


2 SAM Slots


2 SIM Slots

Finger Print Scanner

High Performance Optical Sensor (500dpi),




MINEX & NIST Certification for FPS;




Optical / Capacitive



Communication Modules

a) LAN 10/100 BASE-T; Standard RJ45 connection




b) Quad Band: GSM/GPRS/EDGE; Dualband:UMTS/HSPA+SMA female antenna connection




c) Wi-Fi with b/g/n supports



GPS

Inbuilt GPS Module

Camera

Inbuilt Camera (5 Mega Pixel), QR code supported with 1sq.cm image

Bluetooth

Inbuilt Bluetooth

Power Adaptor
AC input 100 - 240V, 50/60Hz DC output 9V, 2.2A
Battery
Li-ion Polymer 7.4V/2600mAh
Enclosure
ABS+PC
Temperature
Operating : 0&degC to 55&degC
Humidity
95% RH non condensing
Immunity
IEC 61000-4-2, Level 3 IEC 61000-4-3, IEC 61000-4-4, IEC 61000-4-5, IEC 61000-4-6, IEC 61000-4-8, IEC 61000-4-9, all Level 4
Safety
CE Certified
Dimensions (mm x mm x mm)
245 x 96 x 85 (L x W x H)
Weight
750 gms
Certification
STQC

indicates optional feature

OS updates done using RTMS
Product Configuration
S.No
Features
Description
1.0
Standard Features
1.1
Processor
ARM Cortex A9 @ 1GHz
1.2
Memory
Flash 8GB
1.3
Display
3.5 Inch Touch Screen TFT LCD 320 X 240 pixels;Virtual Keypad on LCD
1.4
Keypad
QWERTY Keypad; Alpha Numeric (A-Z;0-9); Function keys (F1-F10);
Special Keys(Shift,Back,Cancel,Enter,Space,Fn)
1.5
Printer
Thermal graphic printer, 8 dots/mm resolution
1.6
Communication Modules
LAN 10/100 Base-T
1.7
Speaker (Audio)
1W Speaker Supporting MP3 and WAV file
1.8
Interfaces/Connectors
Micro SD (upto 32 GB)
2-SAM slots
1.9
Enclosure
ABS+PC
1.10
Accessories
Paper Roll
Thermal paper 57mm wide and 20Mtrs length
Power Adaptor
9V D.C, working on 100 to 240V A.C, 50 / 60Hz / 2.2A with 5mm Plug
Battery
7.4 V / 2600mAH Li-Polymer type
Serial console cable
RJ45 8P8C one side with DB9 pin termination other side for PC interfaces
Documentation
User's Manual
2.0
Optional Features
2.1
Communication Modules
Quad Band GSM|GPRS|EDGE
Dual Band UMTS|HSPA+
2 X SIM Card holder
GSM / GPRS
Quad Band: GSM/GPRS/EDGE
Dual Band: UMTS/HSPA+
1x SIM Card holder
Standard Antenna: 1x Standard Stick Antenna
Optional Antenna: 1x GSM Magnetic Whip Antenna (5dB with 3 meters)GSM Whip Antenna
Optional Antenna: 1x GSM Magnetic Whip Antenna(5dB with 5 meters)
2.2
Wi-Fi
Wi-Fi with 802.11 b/g/n
2.3
GPS
Inbuilt GPS
2.4
Camera
Inbuilt Camera (5 mega pixel)
2.5
Bluetooth
Inbuilt Bluetooth
2.6
Finger Print Scanner
Capacitive Finger Print Scanner
Smart Bio-metric module (ANSI 378/ISO 19794-2 minutia support)
2.7
Accessories
USB Host (Type A) to USB Device (TypeB) cable
Holster
Carry Bag
2.8
External Battery Charger
4 batteries holder with Adaptor 9V/3A without batteries
2.9
Software Tools
VISIONTEK GL-11 SDK
POS Image Download Tool