87VTU
VISIONTEK 87VTU Consists of powerful Built-in GPS receiver engine, Quad Band GSM Modem, New generation Micro processor, Inbuilt flash memory, USB Port, Hard RESET Button, Tamper switch, 3DMotion sensor, 3 LED indicators, internal battery, digital / anlaog inputs, deigital outputs ,Serial Port, 1-wire feature and Internal Battery.
Overview
VISIONTEK 87VTU Vehicle Tracking Unit consists of a Quad band GSM/GPRS modem and a powerful 48-Channel GPS receiver. The basic function of the Vehicle Tracking Unit is to acquire, monitor and transmit the position, Date,Time and direction data to server in the form of Packets or SMS.
VISIONTEK 87VTU is provided with USB Port for firmware uploading, device configuration and to capture the GSM / GPS logs. It has 3 LEDs (GSM. GPS and Power) to indicate the health status of the device. It is also provided with 3D Motion sensor to identify sleep/motion and to reduce data & Power consumption.
VISIONTEK 87VTU is having 4 digital inputs, 4 digital outputs , 2 Analog input (Voltage), 2 Analog input (Current), 1 Serial Port (RS 232) and 1-Wire (Temperature sensor).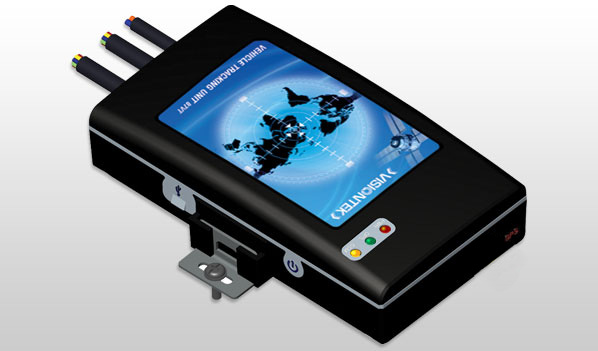 VISIONTEK 87VTU is a More Advanced 'Vehicle Tracking Unit' which will give VehicleID, Device IMEI, Current date, Current Time, Location, Speed, Direction, Altitude, Cumulative Odometer, GSM and GPS Signal strength, GPS Fix status, etc.
Software features like Password protection, SIM Lock, Geofence, Sleep Mode, Fall Back SMS, Store and Forward (History data) , Track On Demand, OTA Commands and Remote Firmware Update makes 8705 VTU a powerful and most robost device for the application areas like Fleet Management, Ambulance Management, Taxi/Cabs, Logistics, Education institutions, Boats, Ships etc.
VISIONTEK 87VTU Comes with an IP65 plastic enclosure and equipped with Internal GSM and GPS antennas. For better performance, the device is also provided with provision for external GSM/GPS Antenna*.
Application Areas
Fleet Management
Taxi Dispatch Syetem
School Bus Management
Logistics
Public Transport System
Delivery & Courier Srivces
Security & Emergency Vehicles
Work force Management
Features
Quad band GSM/GPRS Module.
GPRS Class 10
48 Channels powerful GPS Module.
Inbuilt 3D Motion sensor.
Hardware and Software password protection.
4MB Flash Memory (8MB Optional)
Supports Dual IP
4 Digital Inputs
4 Digital Outputs
2 Analog Input (Current) and 2 Analog input (Voltage)
Serial Port (RS 232)
Internal Battery
1-Wire (Temperature sensor)
Support TCP/IP, UDP, http, Domain and IPv6
Auto APN
SIM Lock & device Lock feature.
Track on demand.
Auto Fall back SMS
Built in Geo-fence.
Angle tracking.
Configurable output protocol parameter.
Static Navigation
IP-65 / Water proof Casing.
Downloads
Specifications
VEHICLE TRACKING UNIT 87VTU
8701-VTU
8703-VTU
8704-VTU
Operating Voltage
9V-30V DC
Internal Battery
3.7V, 1100mAh, Li-ion battery
CPU CORE AND MEMORY
Micro controller
ARM Cortex M3, 32 bit, SRAM 32K, FLASH 256K
External Flash Memory
4 MB/ 8MB*
GSM / GPRS COMMUNICATION
Modem
Quad Band 850/900/1800/1900 MHz
GPRS
Class 10, Class-B
Output Power
Class 4 (2W) @ 850/900 MHz
Class 1 (1W) @ 1800/1900 MHz
SIM Card
1.8 / 3V
Protocols
TCP / IP, UDP & HTTP
GPS NAVIGATION
GPS Receiver
48 Channels
Frequency
L1, 1575.42 MHZ
Horizontal Position Accuracy
<2.5 meters
Hot start
1 Sec
Warm start
35 Sec
Cold start
35 Sec
Protocols
NMEA
FEATURES
Digital Input
Four - 0 to 30 Volts DC (0 = 0V to 4.5 V & 1 = 5V to 30V)
Two
Four
Digital output
Four - Support Open Collector 100mA
Two
Four
Analog Input - Voltage
Two - Supports 0V to 30V
One
Two
Analog Input - Current
Two - Supports 0 to 20mA
One
Two
LED's
3(Power, GSM ,GPS)
RS 232
Tx, Rx & GND cables
USB Port
USB ( Device) available
1-Wire
Temperature Sensor / i-Button Compatibility
Accelero Meter
3D Accelero Meter
Protocol Support
TCP, UDP and HTTP
Geo-fence
Rectangle & Circle
Firmware upgradiation
Via GPRS
Reset Switch
Available
Tampering Alert
Device Open & Close alert
GSM Antenna
Internal
GPS Antenna
Internal
MECHANICAL
Dimensions (mm)
123 X 76 X 29.8 (LxWxH)
Weight
Product Weight 415gms
255gms
335gms
415gms
Enclosure
Plastic
IP Compliance
IP 65
Note :
We pursue a policy of continuous research and product development. Specifications and features are subject to change without notice

indicates optional feature
Product Configuration
S.No
Features
Description
A
Standard Features
1
GSM Module
850/900/1800/1900 MHz Quad band GSM / GPRS module
2
GPRS
Class B and Class 10
3
GPS Module
48 Channel powerful GPS receiver
4
Micro Controller
32-Bit ARM Cortex M3, SRAM 32K, Flash 256K
5
Flash Memory
4MB (Default) and 8MB (Optional)
6
SIM Interface
1.8V and 3V
7
Accelero Meter
3D Motion Sensor
8
Software
Customer can configure the output format as per choice
9
Antenna
Internal GSM and External GPS*
10
Accessories
2Core 24 Sq.mm sheathed Multi-core 3Meters power cable with Torrid,
9 Corex0.25mm Sq mm type-A pvc insulated multicore Unshielded cable (Port A and Port B),
GPS Antenna, Built in tamper switch, Customised USB Cable,
L-Shape clamps set, Double sided Sticker and set of mounting screws.
11
User Interface
Power, GSM & GPS LEDs External Power Cable
SMA (F) Antenna Connector for GPS (If external)
Hard RESET switch
USB Port for device configuarion
12
Input Voltage
DC power (9 Volts - 30 Volts)
13
Dimensions
123 x 76x 29.8 (L x W x H) in mm
14
Weight
335 grms
15
Enclosure
IP65 Plastic Enclouser (Water Proof)
16
Packaging
Corrugated Mailer Box
B
Optional Features
Description
1
Cables
Customized USB Cable for device configuration
2
Configuration
Configuration UI Tool will be available on our ftp link
3
External GPS Antenna
1575.42 Mhz External Antenna with RG-174/U Cable
Note : Any Customization is subject to Business Approval