Electronic Voucher Distribution
EVD 12E is an innovative web-based solution that offers simplified options to receive payments for services provided by you.
Overview
VISIONTEK Electronic Voucher Distribution 12E (EVD) is an application software that manages the online process of credit top-up of airtime. It greatly simplifies the process of Prepaid Recharge with a centralized control of information and real time reports, saving valuable time that would otherwise be spent on logistics like printing, dispatching, stocking, availability and tracking of recharge cards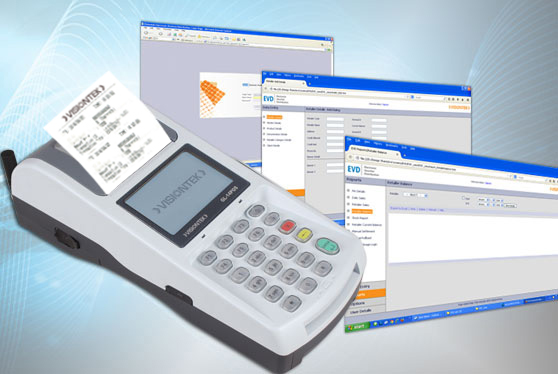 Just install the VISIONTEK EVD software at the server, and manage the selling of mobile top up and recharge to different wireless handheld POS terminals installed at various retailer locations!
The VISIONTEK EVD 12E application software, with its multiple options, improves Operator efficiency, generates additional revenue, and provides well-organized services to the subscriber.
Features
User defined Vendors, Retailers, Products, Denominations
Selective privileges to Distributors, Sub-Distributors and Retailers
Creation of Sub-users with privileges assigned
Specific commission structure to each Distributor, Sub-Distributors and Retailer
Programmable Broadcast and Advertisement messages to Retailers
Duplicate receipt printing
Vast number of Reports
Customized reports to end user
Remote updation of terminal software
Commission structure - Distributor commission, Retailer commission and Denomination specific commission
PIN migration from one denomination to other
Online, Offline, Bulk purchase, Buy pin with code, print last sale features
Added Manual settlement and Manual rollback features
Modes of Communication : GSM, CDMA, Ethernet and PSTN
Instructive Help index
PIN Data security with Smart card (ISO compliance)
Auto mail facility at cutoff time
PGP encryption for importing pins by exchange of certificates
Deposit through excel to Retailers
Low balance tracking.
Pin voucher tracking based on serial number
For More information : Please visit of EVD Website at www.electronic-voucher-distribution.com
Benefits
Increased availability & convenience of airtime top-up options
Reduced logistics
No 'Out of Stock' problems
Availability in all denominations RCV's/ Top-up's
Increased cash flows for telcos & airtime resellers
Minimize fraud & theft
Centralized control of information
Real time sales reports
Caters to Mobile & Utility bill payments, prepaid water, Municipal tax collections, Agency banking, Lottery, Vehicle tax, Road tax collections, Traffic violation tickets payments.
Supports CDMA, GSM (GPRS) modes of Communication
Standard System Requirements
Hardware

Processor
Intel® Xeon® E5405
(2.00 GHz, 1333MHz FSB,
12M Cache)
RAM
4GB
Disk Space
RAID1 300GB 15k Rpm SAS Driver

H/W can be configured based on the Solution Architecture.

Software

Operating System
Microsoft Windows 2012 R2 Standard Edition
Database
SQL Server 2012 Standard
Web Server
Microsoft Internet
Information Server(IIS 7.0)
Web Browser
Microsoft Internet Explorer v6.0
Technology Framework
Microsoft .Net 4.0 & above
Applications
Microsoft Office 2010,
Adobe Acrobat 6, and
any anti-virus software
Downloads
Brochure