Ticket Vending Solution - 18A
A very Prominent and user friendly solution developed by VISIONTEK for vending tickets and monitoring the entire end to sales..
Overview
VISIONTEK Ticket Vending Solution - 18A is an innovative Web-based solution that offers simplified options to cut down the inventory management of pre-printed traditional ticket sales and save the passenger time & hassles. It helps the Management plug revenue leakages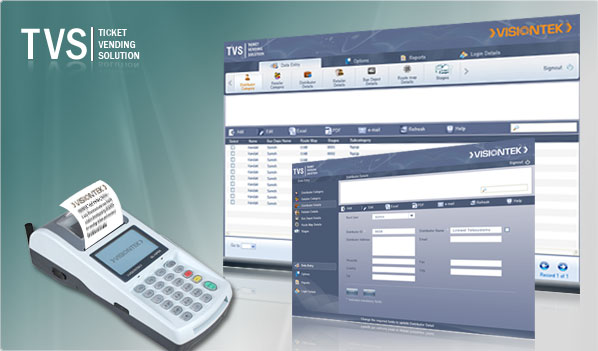 Public transport in developing economies plays a critical role. An efficient and cost effective system increases productivity and connectivity. In the twenty-first century, time is more precious than ever, and people demand products and services they can pay for quickly and efficiently. Cash or contactless operated vending machines are popular in developed countries. However, a different solution is required for developing countries and Visiontek ready with very economic solution with rich features. In recent years, services made available to passengers and commuters have undergone significant changes in developed countries. Ticket vending machines can now be integrated with a central system. They can be used for making payments in cash and cards.
The Visiontek TVS software solution is designed and developed to overcome the problems associated with selling of physical pre-printed tickets, reducing printing cost and storing the pre-printed tickets as also under reporting of the tickets issued.
Features
An universal full-featured ticketing solution
Facilities for Passenger Ticketing
Online ticket data transfer
Ticket Sales Using Handheld Ticketing POS terminals
Keep track of each and every ticket sold in the system
Issue and accept contactless smart passes
Recharge monthly passes (contactless cards)
Contactless card (DESFIRE EV1) including Printing and personalization
Accept the contactless card (RFID/NFC) and NFC phones to allow the transaction
Card management
Cardholder lifecycle management
Card deactivation feature through customer care web portal
Allow online and offline transactions (deduct the amount from Prepaid card)
Transaction processing and web based reporting system
Communication options - GPRS / LAN / Wi-Fi
Configurable receipt
Logo printing in receipt
Future-proof: ready to future extensions and upgrades
Fully secured transactions with SAM features
For More information : Please visit of TVS Website at www.ticketvendingsolution.com
Fleet Management Benefits
Improves quality of Service
Reduced fraud
Multiple operators over a single platform
Easy Bus/Train/Ferry Fleet Management, Route Management & Fare Management
Improved Security Standards for every transaction
Less man power
Financial monitoring of entire sales applicable within solution
End User Benefits
Improved Quality of Serivce
No more hassle of carrying change by means of cards
Better User Satisfaction with latest technology
Card used as E-Wallet
System Requirements
Hardware

Processor
Intel® Xeon® E5405
(2.00 GHz, 1333MHz FSB,
12M Cache, support 12th generation server, 64bit))
RAM
8GB
Disk Space
RAID1/RAID5 3x300/500GB/1TB 15k Rpm SAS Driver

H/W can be configured based on the Solution Architecture.

Software

Operating System
Microsoft Windows 2008 R2 Standard Edition
Database
SQL Server 2008 R2 Standard
Web Server
Microsoft Internet
Information Server(IIS 7.0)
Web Browser
Microsoft Internet Explorer v7.0
Technology Framework
Microsoft .Net 2.0 and above
Applications
Microsoft Excel 2003,
Adobe Acrobat 6, and
any anti-virus software
Downloads
Brochure