Three Phase CT Operated Meter 37CM
Accurate - Intelligent - Reliable - Smart energy metering .
Overview
VISIONTEK 37CM Three Phase Electronic Energy Meter is a CT operated trivector meter designed to meet the enenrgy metering requirements of high power consumers.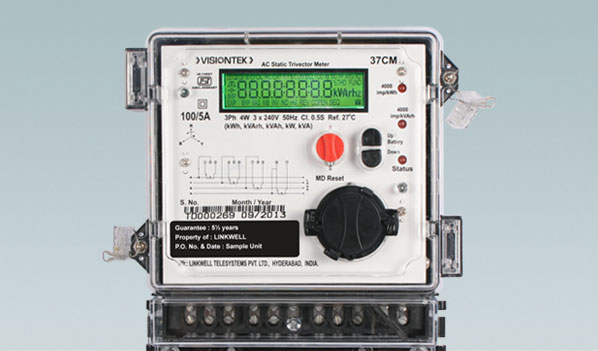 37CM is suitable to deploy for industrial consumer (LT) revenue metering and distribution transformer metering for audit purposes. Meter complies with IS and IEC Class 0.5S metering standards, CBIP TR 88/304 and communication protocol in accordance with BIS ICS ETD 13 doc 6211 (IS 15959) Category A (DT Energy Audit metering)and Category C (LT Consumer metering) for communication interoperability.
Application Areas
LT Consumer metering
DT metering
Features
Class 0.5S accuracy compliance with IS/IEC standards
LCD for display of measured parameters & for anomaly conditions
LED indications for calibration of active energy & reactive energy
Billing point registers storage up to last 12 months
Programmable TOU / TOD
Event logging of tampers and cover open detection
Optical communication port for local meter reading
Programmable load profile for 15 or 30 or 60 minutes interval for kWh, kVArh, kVAh, Voltages, Currents
RS 232 port* for Remote Meter Reading
Meter reading in absence of mains with built-in battery
High immunity to magnetic influence and electrostatic discharge
Sealing provision for meter cover & base and terminal cover
Interoperability through open communication protocol
Downloads
Brochure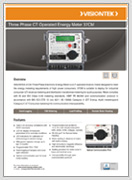 Specifications
Connection Type
Three Phase Four Wire
Accuracy
Class 0.5S as per IS-14697, IEC 62052-11, IEC 62053-22, CBIP TR 88/TR 304
Voltage
Voltage Nominal : 3 x 240 V (L-N)
Operating : -40% to +20%;
Current
-/5A, Ib : 5A and Imax : 10A (Programmable CT Primary value)
Power Factor Range
Zero lag - Unity - Zero Lead
Frequency
50 Hz ±5%
Starting Current
0.1% of Ib at Vref, UPF
Power Consumption
Voltage Circuit : 1.5W/8.0VA
Current Circuit : 4.0VA
Display
LCD with backlit,
8 digit 7 segment display for parameters & icons for anomaly conditions
Real Time Clock
± 3min / year
Communication Interfaces
Optical port Hardware compatible to IEC62056-21
RS 232 port (RJ11)
Communication protocol as per BIS ICS ETD 13 (6211) Category A & Category C
Data Storage
Non-volatile memory with a retention time of 10 years
Measured Values/Units
Active energy
Reactive energy
Apparent energy
Maximum Demand kW/Rising Demand
Maximum Demand kVA/Rising Demand
Instantaneous Phase wise Voltages
Instantaneous Phase wise Currents
Instantaneous Frequency
Instantaneous Power Factor

Maximum Demand (MD) Register
Integration period for 15 minutes or 30 minutes
Sliding window or Fixed window method
Event Logging

Missing Potential




Potential Unbalance




High Potential




Low Potential




Current Reversal




Current Circuit High




Current Circuit Low




Current Unbalance




Current Circuit open




Current Circuit short (bypass)




Neutral Disturbance




Power ON / OFF




Top Cover Open Detection




Magnetic Influence




Low Power Factor




Over Load



Billing registers
Up to last 12 months bill point registers
Time of Use / Time of Day
Programmable time zones
Tariff registers
Programmable tariff registers
Temperature Range
-10°C to +60° C
Humidity
≤95%
Enclosure
IP 51
Weight
1.35kg ± 100gms
Dimensions in mm
232 x 192 x 96(L x W x H)

indicates optional feature