Three Phase Whole Current Meter 37TM
Accurate - Intelligent - Reliable - Smart energy metering .
Overview
VISIONTEK 37TM Three Phase Electronic Energy Meter is designed to meter residential and commercial category consumers in distribution networks. The meter is targeted at the deregulated energy markets which require flexible tariff structures and a modern energy management.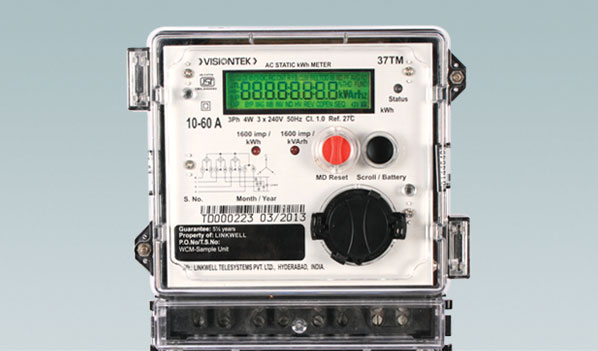 37TM is a perfect combination of well-proven metering technology sealed in a single enclosure with multiple communication interface options. 37TM Energy Meter complies with IS-13779, CBIP-TR 88 and communication protocol in accordance with BIS ICS ETD 13 doc 6211 (IS 15959) Category C for interoperability.
Application Areas
Residential metering
Commercial metering
Features
Class 1.0 accuracy compliance with IS/IEC standards
LCD for display of measured parameters & for anomaly conditions
LED indications for calibration of active energy & reactive energy
Billing point registers storage up to last 12 months
Programmable TOU / TOD
Event logging of anomaly conditions and cover open detection
Ultrasonic welding option
Programmable load profile for 15 or 30 or 60 minutes
Interval for kWh, kVArh, kVAh, Voltages, Currents
Optical communication port / IR* for local meter reading
RS 232 port*, Inbuilt LPRF module* for Remote Meter reading
Meter reading in absence of mains with built-in battery
High immunity to magnetic influence and electrostatic discharge
Sealing provision for meter cover & base and terminal cover
Downloads
Brochure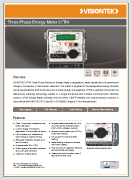 Specifications
Connection Type
Three Phase Four Wire
Accuracy
Class 1.0 as per IS-13779, IEC 62052-11/IEC 62053-21, CBIP TR 88 / 304
Voltage
Voltage Nominal : 3 x 240 V (L-N)
Operating : -40% to +20%
Current
10-60A; 5-30A; 10-40A; 20-100A
Power Factor Range
Zero (lag) - unity - Zero (lead)
Frequency
50 Hz ±5%
Starting Current
0.2% of Ib at Vref, UPF
Power Consumption
Voltage Circuit : <1.5 W and 8 VA ;
Current Circuit : < 4VA
Display
LCD with backlit, 8 digit 7 segment display for parameters & icons for anomaly conditions
Real Time Clock
± 3min / year
Communication Interfaces
Optical port Hardware compatible to IEC62056-21
IR port
RS 232 port (RJ 11)
Inbuilt LPRF module
Communication protocol as per BIS ICS ETD 13 (6211) Category C
Temperature Range
-10° to +60° C
Humidity
≤95%
Measured Values/Units
Active energy
Reactive energy
Apparent energy
Maximum Demand kW/Rising Demand*
Maximum Demand kVA/Rising Demand* Instantaneous Phase wise Voltages
Instantaneous Phase wise Currents
Instantaneous Frequency
Instantaneous Power Factor
Maximum Demand (MD) Register
Integration periods 15/ 30 minutes ;
Sliding / fixed block method
Billing registers
Up to last 12 months bill point registers
Time of Use
Programmable time zones
Tariff registers
Programmable tariff registers
Event Logging
Missing Potential
Potential Unbalance
High Potential
Low Potential
Current Reversal
Current Circuit High Current Circuit Low
Current Unbalance
Current Circuit open
Current Circuit short (bypass)
Neutral Disturbance Power ON / OFF
Top Cover Open Detection
Magnetic Influence
Low Power Factor
Over Load
Enclosure
Case : IP51
Dimensions in mm
232 x 192 x 96 (L x W x H)
Weight
1.4 kg ±200gms

indicates optional feature
Product Configuration
S.No
Features
Description
1.0
Standard Features
1.1
Connection Type
Three Phase Four Wire
1.2
Accuracy
Class 1.0 asper IS13779, CBIP TR 88
1.3
Voltage
Voltage Nominal : 3 x 240 V (L-N)
Operating : -40% to +20%
1.4
Current
10-40A, 10-60A
1.5
Power Factor Range
Zero (lag) - unity - Zero (lead)
1.6
Frequency
50 Hz ± 5%
1.7
Starting Current
0.4% of Ib
1.8
Power Consumption
Voltage Circuit : < 1.5 W and 8 VA ;
Current Circuit : < 4VA
1.9
Temperature Range
-10° to +60° C
1.10
Humidity
≤95%
1.11
Display
Custom built LCD with back-light
6 + 2 digit seven segment display for parameters and icons for other indications
1.12
Communication Interfaces
Optical port hardware compatible to IEC 62056-21

1.13
Measured Values/Units
Active energy
Maximum demand kW
Phase voltage
Line current

1.14
Maximum Demand (MD) Register
Integration periods 15 minutes / 30 minutes Fixed block / Sliding window
1.15
Billing registers
Up to last 12 months bill point registers
1.16
Event Logging
Missing Potential
Current Polarity Reversal
Current Circuit Short
Current Circuit Open
Current Unbalance
Voltage Unbalance
Neutral Disturbance
Power ON / OFF
Cover Open Tamper
Magnetic Influence
Earth Load Tamper
1.17
Enclosure
IP 51
1.18
Dimensions in mm
232 x 192 x 96 (L x W x H)
1.19
Weight
1.35 Kg ± 100 gms
2.0
Optional Features
2.1
Current
10-60A; 5-30A; 20-100A
2.2
Communication Interfaces
IrDA / IR ,
Isolated RS232 (RJ11) ,
LPR 2.4 GHz built-in module
2.3
Time of Use
Programmable up to 8 slots
2.4
Event Logging
Terminal cover open detection
2.5
Load Survey
kWh/kW with 15(30) minutes
for 45(90) days respectively
2.6
Current
10-60A
2.7
Starting Current
0.2 % of Ib
Note : Any Customization is subject to Business Approval